We enjoy framing needlework of all kinds, almost as much as our customers enjoy stitching. Cross stitch, crewel, needlepoint, you name it and we frame it. We really enjoyed this small needlepoint piece our customer recently brought us for framing. Called Strawberry Thief, it is adapted from a fabric design created by the famed Arts & Crafts designer William Morris.
For the design, our customer wanted something that felt appropriate to the period of the art, so we looked at rich wood frames, arriving at this one that was just the right size and colour. We didn't want anything too dark and heavy, but it needed some visual weight. This one was perfect. We decided to customize it a bit by adding a fillet, the trim along the inner edge of the frame, that picks up the little bird's colours.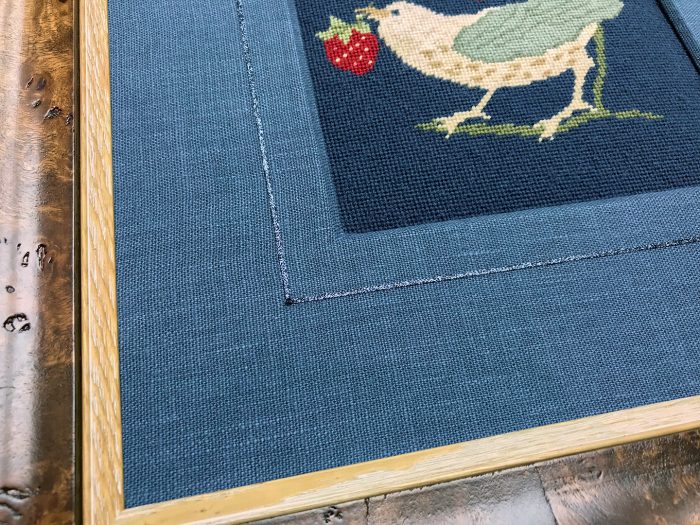 The mat is a beautiful nubby linen whose texture works wonderfully with the texture of the stitches. We and our customer decided not to try and match the colour perfectly to the background (an impossible task sometimes!), but to find a colour that coordinates with it. As an extra special touch, we suggested to our customer that she take a look in her thread stash and see if she had any blue thread that was similar to the colour of the mat. She did, so we created a delicate line detail on the mat with it. It's a subtle touch, but one that's a treat to someone who takes a closer look at this charming little bird.
Any needlework takes a lot of time and effort, so we want to make sure the framing keeps it in good condition as long as possible. That's why we laced it with thread instead of using any kind of glue, tape or staples. It's also why we always recommend using glass or acrylic on needlework, rather than leaving it exposed. A lot of people still think that needlepoint should be framed without it, but using glass or acrylic adds a lot of protection from dust, insects and grubby fingers. Here's some more information about it, including why we love to use Museum Glass on needlework. Spoiler alert: it's practically invisible!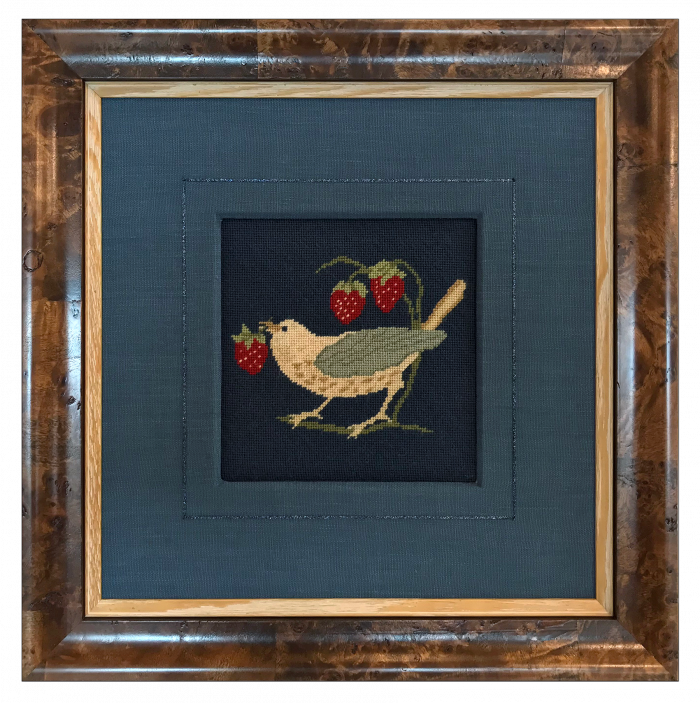 By the way, if you'd like to stitch a little Strawberry Thief for yourself, the canvas and threads are available HERE. We'd be happy to help you find the perfect framing for it or any other needlework you might have. Or vacation photos, or diplomas, or a painting, or…